This is the 2009 Contemporary Forum grant rejection notice project.

In 2009 the CF had a snafu when sending out the rejection notices to grant applicants by including everyone's name/email address in the cc field rather than something more private. It was their attempt to let us know in a timely manner that we had all been rejected that year. The emails went out in batches.

I decided to email everyone in my rejection batch, after all, we were all in this together and it was a rare moment of opportunity – this will never happen again. I asked for permission to print their email addressees on a t-shirt as I would make to celebrate our unity as 2009 rejection recipients. The names of those who did not reply or expressed that they didn't want to be included were redacted.

If you'd like to make your own shirt, download the images for the front and back of the shirt, or you can purchase made t-shirts here.

Nod and thank you to Jenny Holzer whose work I love.
front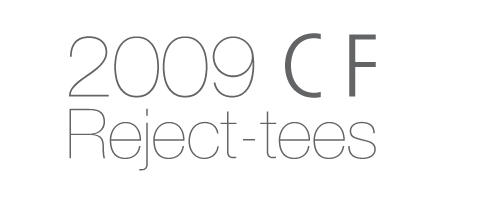 back